WHEATEN FUN DAY SOUTH 2021 – Please see "Important Information for Attendees" below.
July 4 @ 12:30 pm

-

5:00 pm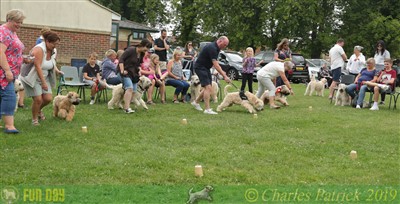 WFD SOUTH will take place on Sunday, 4th July 2021 at Steventon Village Hall, Steventon, Oxon. OX13 6RR.
IMPORTANT ANNOUNCEMENT – The SCWT Committee are fully intending to run Funday South on the date and at the venue shown above. If it is your intention to attend, can you please email Alison Fallon ASAP at alisonfallon1@hotmail.com to inform her of the number of people in your party, as we are operating under COVID restrictions and we need to have an indication of the numbers likely to attend on the day. THANK YOU!
Fun events and games for all Wheatens and their families, as well as any honorary Wheatens and two-legged guests who would like to join us.
Starting time is usually 12.30pm, but this event may start slightly later this year as the Funday will start once the judging for Open Show South (which is taking place in the morning) has been completed.
ADDITIONAL INFORMATION FOR ATTENDEES
Thanks to all who are intending to attend the Open Show South and/or the Fun Day on Sunday 4th. We look forward to welcoming you.
Due to Covid restrictions there are strict guidelines that we have to abide by to be able to hold this event and keep everyone safe. Please comply with any requests made by the Organisers. The following is here to assist you to plan your attendance .
The entry for the Show, and judge Sherrill Goodwin, is 29 making 44 entries. The show opens at 0830 and judging commences at 0930. We hope to run the show outside, but this is obviously dependant on weather conditions.
The car park has some spaces that cannot be used due to building work, please do NOT park on the grass, and also be respectful of the neighbours.
On arrival please report to the Secretary's desk and supply your details for Track and Trace (these will be retained for 21 days)
Catalogues, programmes and ring numbers will be on the table for you to collect.
Due to the restrictions the maximum allowed inside the hall at any one time is 30 people, there is therefore no grooming area provided so we suggest you arrive with your dog "ring ready".
There will be signs showing entrance and exit and the one way system, please comply with all notices.
Sadly we are unable to provide any catering so either bring a picnic or visit the local shop. Please bring your own chairs or picnic blankets.
Remember masks, sanitiser and social distance at all times ( explain that to your Wheaten!!)
Masks are to be worn in the ring and exhibitors are asked to show their dogs dentition.
After the class has been judged, prize cards and rosettes will be available for collection at a separate table.
Cups will now not be awarded on the day as not all have been returned, they will be available after restrictions have been lifted or the AGM.
As previously stated, we hope that the weather will allow the events to be held outside. You are welcome to bring gazebos/shelters/umbrellas, but it is your responsibility to ensure they are safe.
For your own safety please be mindful of conditions underfoot.
If there are any last-minute changes they will be posted on Facebook or here on the Club website.
We appreciate that this is a different experience from previous shows and Fun Days, but we hope that you will work with us to have an enjoyable and safe day in these uncertain times.