WOW Day 2019

Sunday, 22nd September 2019 is officially a WOW day!
It has been a while since we had an official Club WOW (Walk Our Wheatens) day, so for those of you who are new to the idea – a WOW day is where groups of Wheaten owners and their Wheatens (often with a few honorary Wheatens as well) meet up and go for a walk together. Its often followed by a cuppa and a cake, or better still, a picnic if the weather is good. It's a great way to get to know other Wheaten owners in your area or catch up with old friends.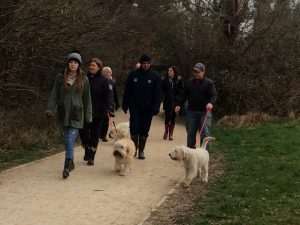 If you would like to organise a WOW in your area, (it's not difficult to do – honest), please contact Rob Cooper at cooper_robert2000@yahoo.co.uk and let him know where you are planning to hold a WOW and at what time. (Rob needs to know about it so that the Club are covered for insurance purposes.)
Once you let us know the venue (name, address & postcode if possible) as well as your contact details as the organiser (name, tele number and email address), we will then add it to a list of locations on this page of the website, and on Facebook, so everyone can see where they are being held and come along to join in the fun.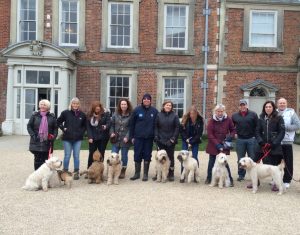 If you want to join in a WOW, please keep checking back here for details of any WOW in your area. They will be listed below as we know about them.
*************************************************************************
WALK #1
Venue: Kingsbury Water Park, Bodymoor Heath, Sutton Coldfield, West Midlands B76 0DY
Start Time: 10:30 am
Organiser: Liz Shrive
Contact: eshrive@hotmail.com
WALK #2
Venue: Loch Leven Heritage Trail, starting at Kirkgate car park, Kinross. KY13 8UF
Start Time: 10:30 am
Organiser: Susan Coupar
Contact: susan.coupar@gmail.com