Past Events
Events Search and Views Navigation
May 2019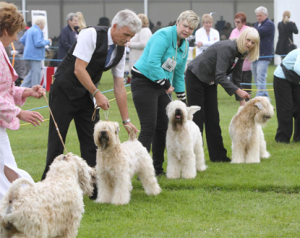 **************ENTRIES FOR OPEN SHOW NORTH 2018 ARE NOW CLOSED*************** Judge is Maud Hawkes Please note Open Show North will be held in conjunction with Darlington Championship Dog Show. Judging for OSN will not start until after the completion of SCWT breed judging for Darlington Championship Show classes. If you are only entering the Club Open Show, and not entering Darlington Championship Dog Show, you will need to pay for Car Parking with your entry, and be sent a car park…
Find out more »
October 2018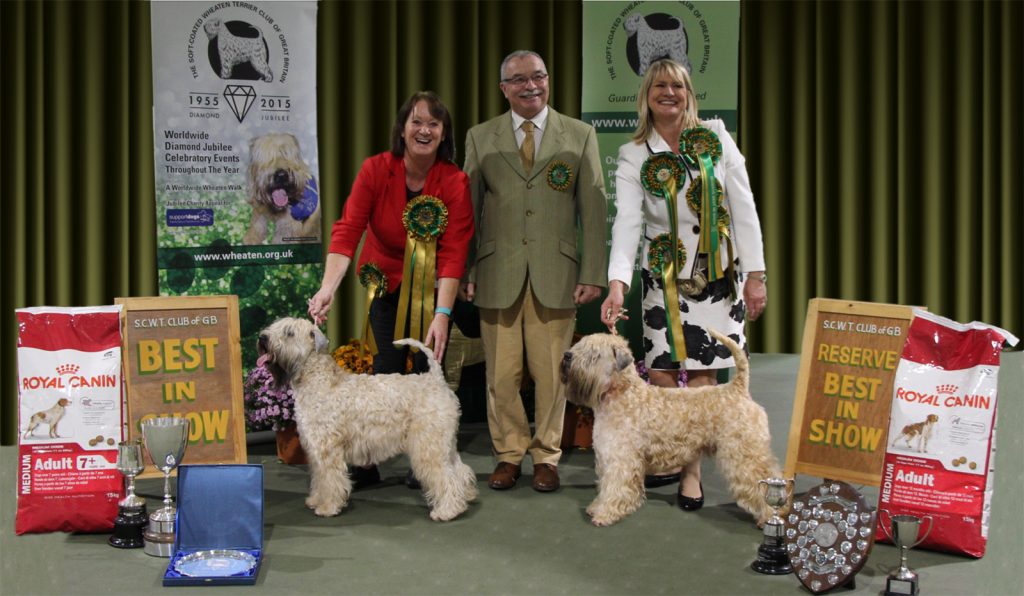 Judge for Breed Classes is Jo Dowdy (Denzilly) ***STOP PRESS*** ***CLOSING DATE FOR ENTRIES NOW EXTENDED TO FRIDAY 5TH OCTOBER 2018 (POSTMARK)*** A copy of the schedule for this show can be downloaded at the following link - SCWT Club of GB Champ Show Schedule 2018 Doors open at 8am. Judging starts at 9am.
Find out more »
A SCWT Club of GB evening social event will be held at The Royal Court Hotel, Coventry, CV7 8JG, on Saturday 20th October 2018. This is the evening of our Championship Show, and is at the same Hotel. Back by popular demand, there will be dancing to "All or Nothing" Tickets to the Evening Social cost £25 per person and will include a Hot Fork Buffet, Dessert and Coffee Tickets for the event are available from the Treasurer at treasurer@wheaten.org.uk…
Find out more »
*** THIS EVENT IS NOW FULLY BOOKED *** We are still able to take a few names for a reserve list just in case someone, who has already booked, drops out at the last minute. Please email Denise Pascoe at secretary@wheaten.org.uk if you wish to go on this reserve list. Please do not complete any booking forms or make any payments unless you are contacted to offer you a place. WHEN? SUNDAY, 28th October 2018 WHERE? SCORTON WAR MEMORIAL…
Find out more »
March 2019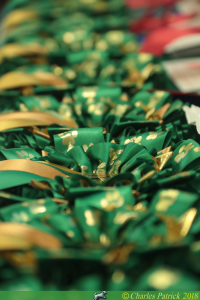 Judge - Mrs Bev Howes (Daisymaes) ***CLOSING DATE FOR POSTAL ENTRIES NOW EXTENDED TO 1ST MARCH 2019*** The Club's 2019 Open Show South will take place on Sunday, 24th March 2019 at Steventon Village Hall, Steventon, Oxfordshire OX13 6RR ***NEW FOR 2019*** - You can now either enter using the entry form below or enter ON-LINE at the link shown below. The schedule and entry form can be downloaded here using the following links - OSS 2019 Schedule OSS 2019…
Find out more »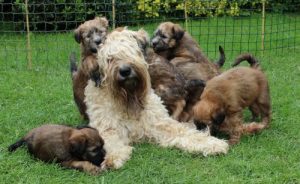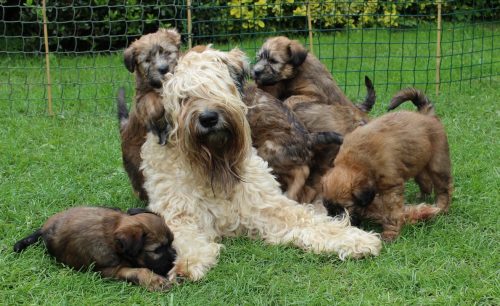 MATING & BREEDING SEMINAR (Open to all breeds) So you want to know about breeding? So – you love your dog and are interested in breeding? Or do you just want to find out more about the whole process? Come along and listen to our expert speaker Kathryne Wrigley. Kathryne is a Royal Veterinary Nurse working in a busy practice.  She has lived with dogs all her life leading to her special interest in canine reproduction.  Kathryne offers accurate and…
Find out more »
April 2019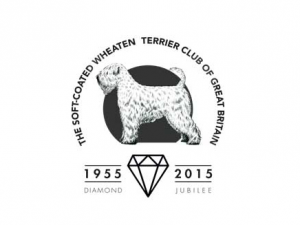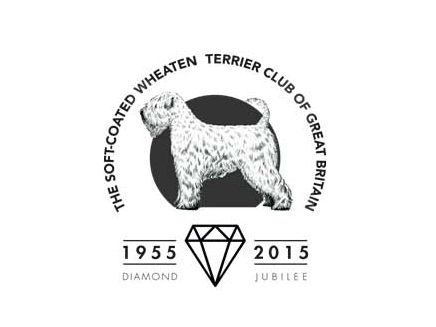 The Club's 2019 AGM will take place on SUNDAY, 14th April 2019 at Bulkington Village Community Centre, Bulkington, Warks. CV12 9JB The AGM will commence at 10.30am. (Venue will be open from 10am) A copy of the AGM Agenda can be found by clicking on the following link - AGM Agenda 2019 (AGM paperwork and ballot papers were posted out week commencing 11th March 2019 to all Members who were fully paid up by 1st March 2019).
Find out more »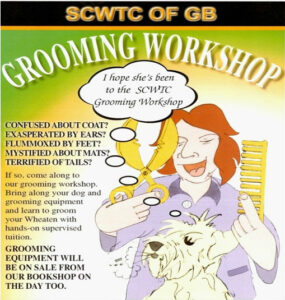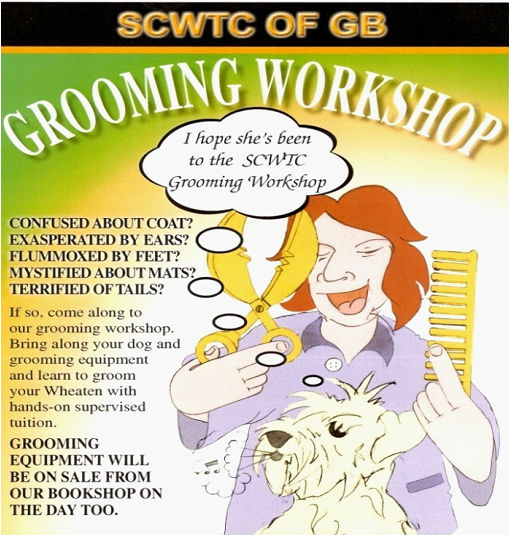 PLEASE NOTE - THIS EVENT IS NOW FULLY BOOKED & NO FURTHER BOOKINGS CAN BE TAKEN AT THIS TIME. However, if you wish to put your name on a waiting list in case anyone drops out at the last minute, please email Alison Fallon at treasurer@wheaten.org.uk with your details. WHEN? SATURDAY, 27TH APRIL 2019 WHERE? CROOKHAM WAR MEMORIAL HALL Sandy Lane, Fleet, GU52 8LD TIME? Starting at 11am (until 4pm) COST? £35 per person with 1 dog £15 per person…
Find out more »
May 2019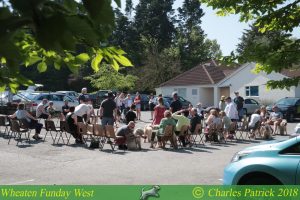 The Club's 2019 Wheaten Funday West will take place on Sunday, 5th May 2019 at Edington Village Hall, nr Bridgewater, TA7 9LD. Start time is 12.30pm Fun and games for all Wheatens, their families & friends.
Find out more »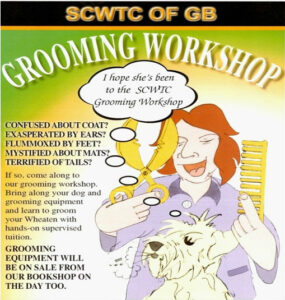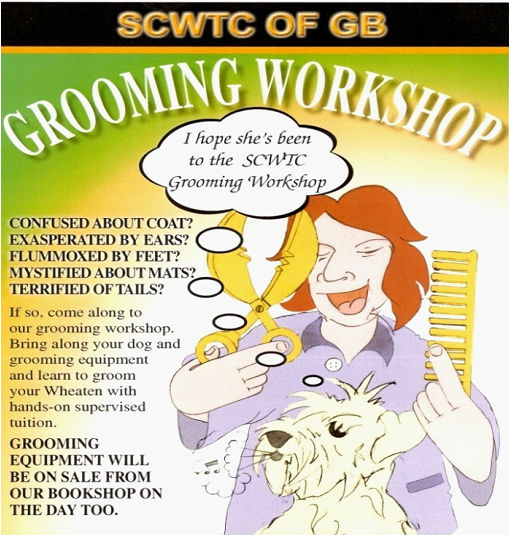 WHEN? SUNDAY, 19TH MAY 2019 WHERE? CRAWFORDJOHN VILLAGE HALL Manse Road, Crawfordjohn, South Lanarkshire, ML12 6SR TIME? Starting at 10am (until 4pm) COST? £35 per person with 1 dog £15 per person without dog WHAT WILL YOU GET? * Expert instruction in how to groom your Wheaten; * Advice, supervision & guidance throughout the day; * Tea, coffee & lunch. To book your place at this Grooming Workshop, please complete the booking form which can be found at…
Find out more »
+ Export Events