OSN 2022 – Results, Critique & Photos
The Club's Open Show North was held on Sunday, 18th September 2022 and the Judge for this show was Mr Ken Bartlett.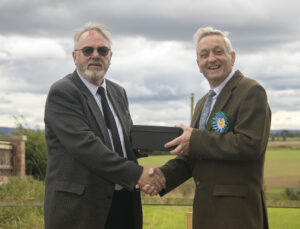 Presentation by Rob Watkins to Judge, Ken Bartlett.
Below are the full results from this show. If you wish to download a printable copy of these results, please click on the following link – OSN 2022 Results.
A copy of the Judge's critique can be downloaded from the following link – OSN 2022 – Judge's Critique
Congratulations to all the winners and exhibitors.
We hope everyone there had an enjoyable day and look forward to seeing you all again next year, on the 16th September 2023, when the show will once again be held at Worsall Village Hall.
~~~~~~~~~~~~~~~~~~~~~~~~~~~~~~~~
The full results were as follows: –
BEST IN SHOW – Clarke's FLAXELA PERFECT STORM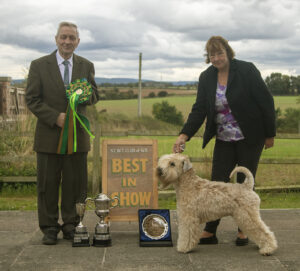 RESERVE BEST IN SHOW – Charleton's HOUSE OF SOFTY INDI JANEYJIMJAMS (IMP SWE)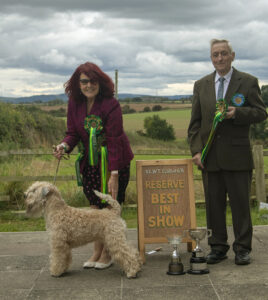 BEST OPPOSITE SEX – Charleton's HOUSE OF SOFTY INDI JANEYJIMJAMS (IMP SWE)
BEST DOG – Clarke's FLAXELA PERFECT STORM
RESERVE BEST DOG – Charleton's HOUSE OF SOFTY INDUS (IMP SWE)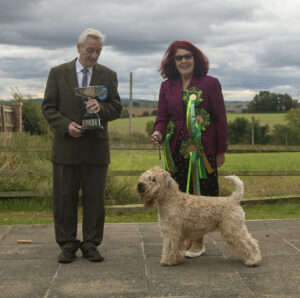 BEST BITCH – Charleton's HOUSE OF SOFTY INDI JANEYJIMJAMS (IMP SWE)
RESERVE BEST BITCH – Howes' FLAXELA FLIRTINI AT DAISYMAES (AI)
BEST PUPPY IN SHOW – Howes' FLAXELA FLIRTINI AT DAISYMAES (AI)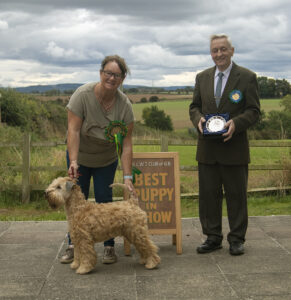 BEST VETERAN IN SHOW – Herbert's CALVENACE SHE'S THE ONE AT JULIBIDD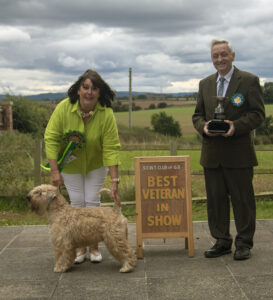 RESERVE BEST VETERAN IN SHOW – Gent & Roberts' FLAXELA MY SECRET LOVE AT SUMIRICK
CLASS RESULTS
Class 1 VETERAN DOG (0 entries)
Class 2 PUPPY DOG (1 entry)
1st Clarke's FLAXELA ILLUMINATI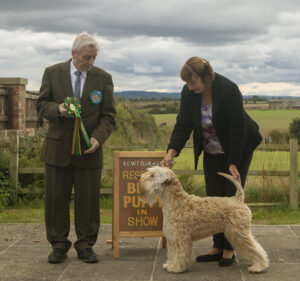 … also RESERVE BEST PUPPY IN SHOW

Class 3 JUNIOR DOG (2 entries)
1st Clarke's FLAXELA ILLUMINATI
2nd Anslow's CARKBARK RUNNING BEAR
Class 4 SPECIAL BEGINNERS DOG (1 entry)
1st Anslow's CARKBARK RUNNING BEAR
Class 5 POST GRADUATE DOG (2 entries)
1st Gent & Williams' CALVENACE HOUSE OF FUN
2nd Herbert's SAFFINI SMOOTH OPERATOR AT JULIBIDD
Class 6 LIMIT DOG (1 entry)
1st Charleton's HOUSE OF SOFTY INDUS (IMP SWE)
Class 7 OPEN DOG (5 entries: 2 Absent)
1st Clarke's FLAXELA PERFECT STORM
2nd Patterson's CH SNOWMEADOW SAULS SYMPHONY TO GAVLEASH
3rd Tilley's JANEYJIMJAMS JUBILEE STAR AT STARZAK SHCM
Class 8 VETERAN BITCH (4 entries: 2 Absent)
1st Herbert's CALVENACE SHE'S THE ONE AT JULIBIDD
2nd Gent & Roberts' FLAXELA MY SECRET LOVE AT SUMIRICK
Class 9 PUPPY BITCH (4 entries: 2 Absent)
1st Howes' FLAXELA FLIRTINI AT DAISYMAES (AI)
2nd Tilley's BRYNHIR BORN TO BOOGIE AT STARZAK
Class 10 JUNIOR BITCH (2 entries: 1 Absent)
1st Howes' FLAXELA FLIRTINI AT DAISYMAES (AI)
Class 11 SPECIAL BEGINNERS BITCH (1 entry)
1st Coupar's KIRKTONHILL SNOW CRYSTAL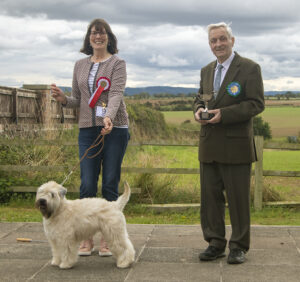 Class 12 POST GRADUATE BITCH (4 Entries: 2 Absent)
1st Howes' FLAXELA FLIRTINI AT DAISYMAES (AI)
2nd Macgregor's KIRKTONHILL A TOUCH OF SNOW
Class 13 LIMIT BITCH (3 entries: 2 Absent)
1st Charleton's HOUSE OF SOFTY INDI JANEYJIMJAMS (IMP SWE)
Class 14 OPEN BITCH (4 entries: 4 Absent)
Class 15 BRACE (EITHER SEX OR MIXED FOR TWO EXHIBITS) (4 entries: 1 Absent)
1st Charleton's HOUSE OF SOFTY INDUS (IMP SWE), HOUSE OF SOFTY INDI JANEYJIMJAMS (IMP SWE)
2nd Clarke's FLAXELA PERFECT STORM, FLAXELA ILLUMINATI
3rd Tilley's JANEYJIMJAMS JUBILEE STAR AT STARZAK SHCM, BRYNHIR BORN TO BOOGIE AT STARZAK
JUNIOR HANDLING CLASSES
Class A  6 – 11 years (0 entries)
Class B  12 – 16 years (0 entries)