Photo Gallery from the 2018 SCWT Club of GB AGM
SCWT Club of GB – Annual Top Wheaten Awards
The Winners for 2017 were as follows: –
Award                                                      Name
Top Wheaten                                         CH FLAXELA WEAVER OF DREAMS JW SHCM
Top Wheaten Dog                                CH GREENTREE GOLD MOMBO TO DENZILLY
Top Wheaten Bitch                              CH FLAXELA WEAVER OF DREAMS JW SHCM
Top Puppy                                              CH FANTASA BLONDE RUFUS
Top Veteran                                           STARZAK SOLID GOLD EZ ACTION JW SHCM
Top Stud Dog                                        CH DAISYMAES ENFORCER
Top Brood Bitch                                   CH CALVENACE FAT BOTTOMED GIRL FOR FLAXELA JW SHCM
Top Breeder                                           MR J & MRS P CLARKE
The Australia Trophy                           CH FLAXELA WEAVER OF DREAMS JW SHCM
The Variety Challenge Plate               CARKBARK GOOD LUCK CHARM
The Eridanus Special Beginners       THISTLEBE THEM THERE EYES AT EBLANAHALLS
The Bacanti Firsts Cup                        SAFFINI SUGA PIE HONEY BUNCH
(Click on the thumbnails to enlarge the photo)
Pam's haul from the day! (Didn't she do well?) Congratulations to Pam & John Clarke's Flaxela kennel for a fantastic year in 2017!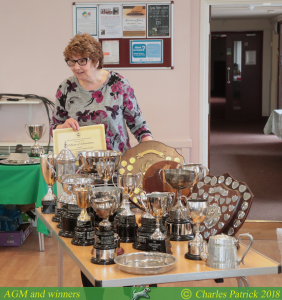 The People Awards
One of the 2018 Diamond Award winners was Malcolm Jeffries who was presented this for his help on the new Club Website & On-line Shop.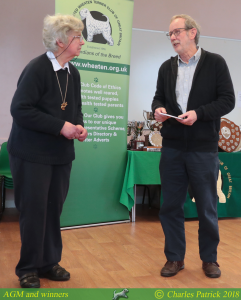 Other 2018 Diamond Award winners were Stephen Donaldson (Website), Tracy Axon (Grooming Buddy and Funday Supporter) and Colin & Jacquie Barton (Grooming Buddies and Funday Supporters). Unfortunately, none were present on the day to receive their awards at the AGM, but these have since been sent to them.
A 'Special' (one-off) thank you was given to Denise Pascoe for Project Managing the delivery of the new Club Website (and for kicking a few butts in the process!)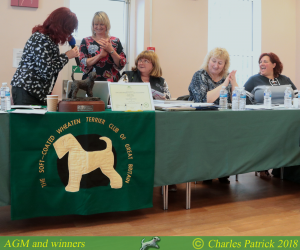 Lifetime Achievement Awards were presented to Margaret House & Judy Creswick for their many years of service to the Club.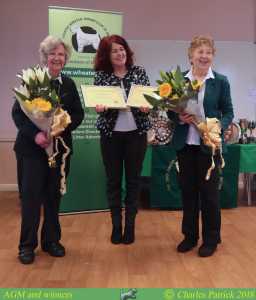 The Janeyjimjams Award was presented to Susan Jones for making the new Grooming Buddy Aprons used in the Grooming Workshops, and all her help at southern Grooming Workshops. (Susan wasn't at the AGM, so this was presented to her the following day by Jane Charleton.)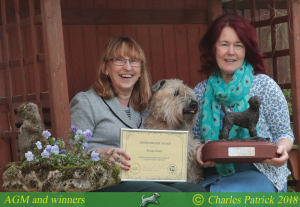 Congratulations to all the SCWT Awards winners!
Other photos from the AGM.
Presenting your 2018 SCWT Club of GB Committee! (They're not laughing because they are happy. They are laughing because they have all gone mad!)