SCWT Club of GB – Open Show South 2023 – Results, Photos & Judge's Critique
The SCWT Club of GB held their Open Show South on 2nd July 2023. The Judge was Mr Jim McGhie.
The results for this show are shown below. A downloadable and printable version of these results is also available by clicking on the following link – OSS 23 Results
The Judge's Critique for this show can downloaded from the following link – SCWT OSS 2023 – Judge's Critique
Photos from the show will appear here as soon as these are available.
Results were as follows: –
BEST IN SHOW
Satherley's CH SILKCROFT NEVER MISS A BEAT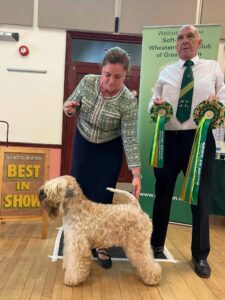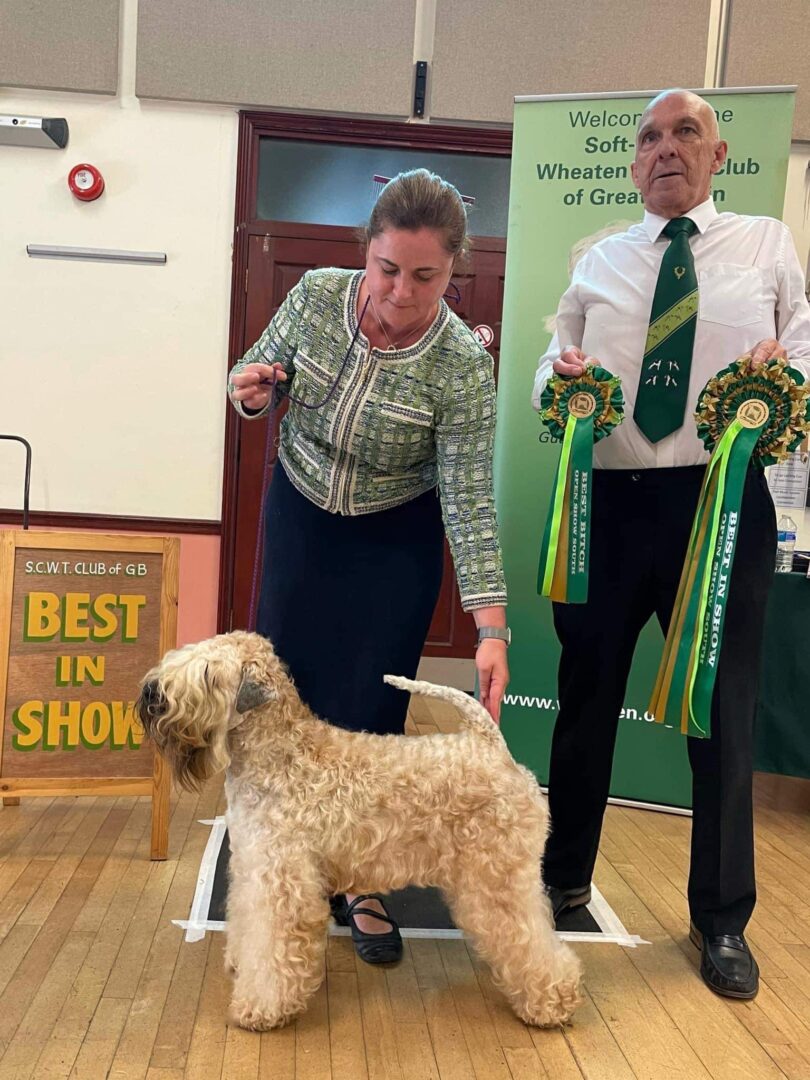 RESERVE BEST IN SHOW
Satherley's SILKCROFT FORTUNE AND GLORY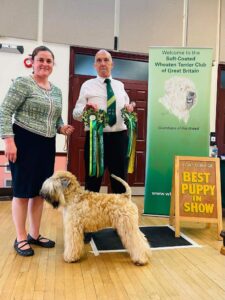 BEST DOG
Satherley's CH SILKCROFT GAME CHANGER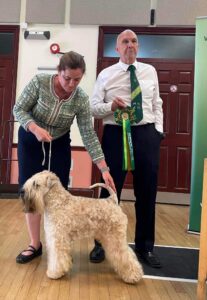 RESERVE BEST DOG
Satherley's AM/CAN CH SILKCROFT FREEZE FRAME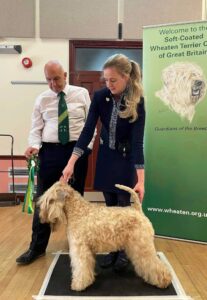 BEST BITCH
Satherley's CH SILKCROFT NEVER MISS A BEAT
RESERVE BEST BITCH
Satherley's SILKCROFT FORTUNE AND GLORY
BEST PUPPY IN SHOW
Satherley's SILKCROFT FORTUNE AND GLORY
BEST VETERAN IN SHOW
Satherley's CH SILKCROFT SKY FULL OF STARS SHCM IJ CH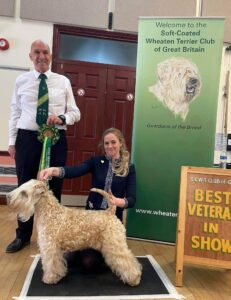 CLASS RESULTS
Veteran Dog (3:0)
1st Williams' FLAXELA LIVING LEGEND OF GWENDONYDD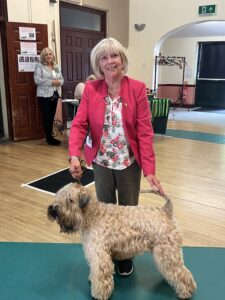 2nd Tilley's JANEYJIMJAMS JUBILEE STAR AT STARZAK SHCM
3rd Blandford's CH JANEYJIMJAMS JOSHUA
Puppy Dog – No Entries
Junior Dog (3:0)
1st Hart's DANNEBRIEL WE WILL ROCK YOU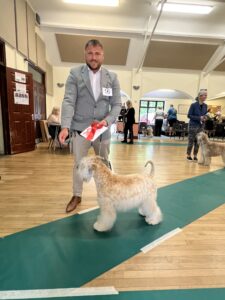 2nd Farquarson's MANAWYDDAN SONG FOR IRELAND
3rd Erzen's KEEVASDREAM MR BLUE SKY
Yearling Dog – No Entries
Special Beginners Dog (2:0)
1st Farquarson's MANAWYDDAN SONG FOR IRELAND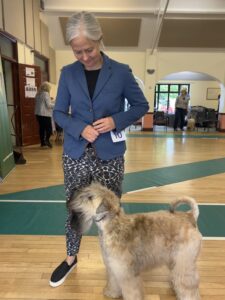 2nd Erzen's KEEVASDREAM MR BLUE SKY
Limit Dog (2:0)
1st Gent's CALVENACE HOUSE OF FUN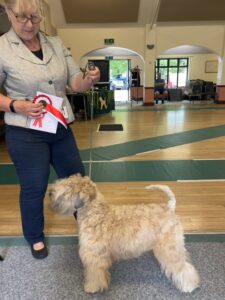 2nd Instance's KEEVASDREAM WHITE KNIGHT
Open Dog (6:1)
1st Satherley's CH SILKCROFT GAME CHANGER
2nd Satherley's AM/CAN CH SILKCROFT FREEZE FRAME
3rd Clarke's FLAXELA ILLUMINATI
4th Grimes-Watson's JANEYJIMJAMS JEM DEVLIN
5th Charleton's HOUSE OF SOFTY INDUS (IMP SWE)
Veteran Bitch (4:1)
1st Satherley's CH SILKCROFT SKY FULL OF STARS SHCM IJ CH
2nd Hughlock's CH JANEYJIMJAMS JOLENE AT KEEVASDREAM
3rd John's DOHOCI BOHEMIAN RHAPSODY
Puppy Bitch (2:0)
1st Satherley's SILKCROFT FORTUNE AND GLORY
2nd Williams' EVESVALE SUMMER BREEZE
Junior Bitch (4:0)
1st Satherley's SILKCROFT FORTUNE AND GLORY
2nd Grant's DANNEBRIEL ME AND MY GIRL
3rd Tilley's BRYNHIR BORN TO BOOGIE AT STARZAK JW
4th Hughlock's KEEVASDREAM BALLERINA BLUE
Yearling Bitch (4:0)
1st Shrive's CLANHANNA REET PETITE (AI)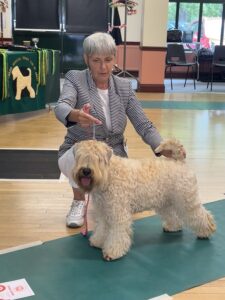 2nd Munn's SNOWMEADOW TREACLE TOFFEE
3rd Williams' GREYSTABLE WILLIAMS
4th Bodenham's KEEVASDREAM BLUE VELVET
Special Beginners Bitch (2:0)
1st Bodenham's KEEVASDREAM BLUE VELVET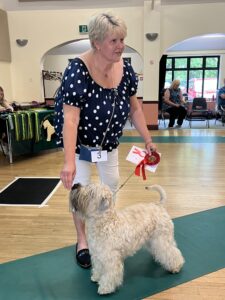 2nd Laws' CALVENACE HONKY TONK WOMAN
Limit Bitch (5:2)
1st Williams' EVESVALE RIO RIA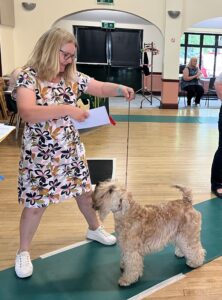 2nd Gent's SUMIRICK BELLINI KAYTEE
3rd Lawrence's SURREYGOLD CELTAN MUSETTA
Open Bitch (7:3)
1st Satherley's CH SILKCROFT NEVER MISS A BEAT
2nd Charleton's HOUSE OF SOFTY INDI JANEYJIMJAMS (IMP SWE)
3rd Munn's SNOWMEADOW SUZY SIXPENCE
4th Laws' CALVENACE HONKY TONK WOMAN
Progeny -No Entries
Brace (5:1)
1st Hughlock's CH JANEYJIMJAMS JOLENE AT KEEVASDREAM, KEEVASDREAM BALLERINA BLUE
2nd Charleton's HOUSE OF SOFTY INDI JANEYJIMJAMS (IMP SWE ), HOUSE OF SOFTY INDUS (IMP SWE)
3rd Williams' EVESVALE SUMMER BREEZE, EVESVALE RIO RIA
4th Munn's SNOWMEADOW SUZY SIXPENCE, SNOWMEADOW TREACLE TOFFEE
JUNIOR HANDLING CLASSES
Class A : 6-11 years
1st Luke Laws
2nd Vesta Erzen
3rd Lois Laws
Class B : 12-16 years
1st Joshua Instance
BEST JUNIOR HANDLER : Joshua Instance