Top Wheatens of the Year 2019 – Results
The SCWT Club of GB are pleased to announce that our Club's Wheaten of the Year for 2019 is Ch Greentree Gold Mombo To Denzilly (Imp USA) owned by Jo & Graham Dowdy. Congratulations to them and to Hendrix!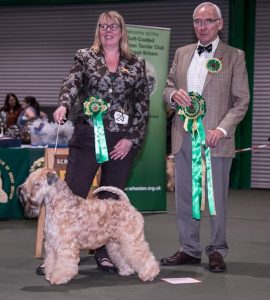 The full results for 2019 are shown below and a downloadable version is available using the following link – SCWT Club of GB Top Wheatens for 2019
Congratulations to all this years winners!!
Top Dogs
1st Ch Greentree Gold Mombo To Denzilly (Imp USA) – 3224 points
2nd Ch Celtannia Atlantic Gold – 574 points
=3rd Ch Snowmeadow Saul's Symphony To Gavleash – 500 points
=3rd Ch Fantasa Blonde Rufus – 500 points
5th Ch Janeyjimjams Joshua – 349 points
Top Bitches
1st Ch Celtannia Extra Chic – 1852 points
2nd Ch Flaxela Weaver of Dreams JW ShCM – 859 points
3rd Sawheaten Kiss From A Rose – 623 points
4th Multi Ch Celtannia Extra Confident At Kinaelan IrJCh CJW'16 HW'16 WW'18 – 455 points
5th Int Ch Ger/Vdh/Lux Wheaten Rebel's U're My Universe – 448 points
Top Breeders
Brian Moles & Dylan Williams – 23 points
Top Stud Dog
US GCh & Can Ch Greentree Moonstruck Mombo Man (USA) – 3224 points
Top Brood Bitch
US GCh & Can Ch Greentree Golden Charm (USA) – 3224 points
New Champion of the Year
Ch Snowmeadow Saul's Symphony To Gavleash – 500 points
Top Puppy
Daisymaes Tumbling Dice – 27 points
Top Veteran
Ch Northridge Gotan Go ShCM – 12 points